sergio cacioppo
Consulente d'immagine reporter photographer designer videographer

ABOUT ME
Edit this text and tell your site visitors who you are. To edit, simply click directly
on the text and add your own words. Use this text to go into more detail about your company.
Make sure to include information about how your company came to be. A strong "About"
page helps establish credibility and professionalism and lets the visitor know more about you.
Visitors want to know more about a company. Make this text focused, direct, and informative.
​Tell the users how the company was started, what the team looks like, and some of your core values.
Nikon DSLR 200SA
Canon Rebel DSLR
​
250MM Canon Lens
50MM Nikon Lens
5000 Lumen Back Lighting
Fornito da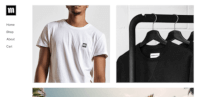 Crea il tuo sito web unico con modelli personalizzabili.